A significant trend in office facilities in Bristol over the last few years has been to increase the capacity and improve the quality of bike parking at office buildings, often at the expense of car parking allocation. And at many locations, the on-site bike parking being created exceeds the statutory Bristol Local Plan requirements, signifying that this is being done to make the office space more appealing to potential business tenants, rather than to simply meet a planning threshold.

With its famous hilly terrain, Bristol may not be the obvious place for commuting by bike, but according to Strava Metro in pre-COVID 2019, Bristol topped the per capita cycling commuting charts amongst the other major UK cities measured (see LINK). Add to this the increasing popularity and affordability of e-bikes, our renowned hills no longer offer a reason not to commute by bike. Employees across all sectors are realising the benefits and journey reliability of commuting by bike.
A significant deterrent to cycling to work expressed by commuters after concerns about safety on the roads is the worry about the security of their bike during the working day. And this is where well-designed bike parking can provide peace of mind and when combined with changing facilities & lockers make commuting by bike a healthy, reliable, and fossil fuel free option, that is practical for many living within a "bike-sized" distance (~2-5 miles) from their workplace.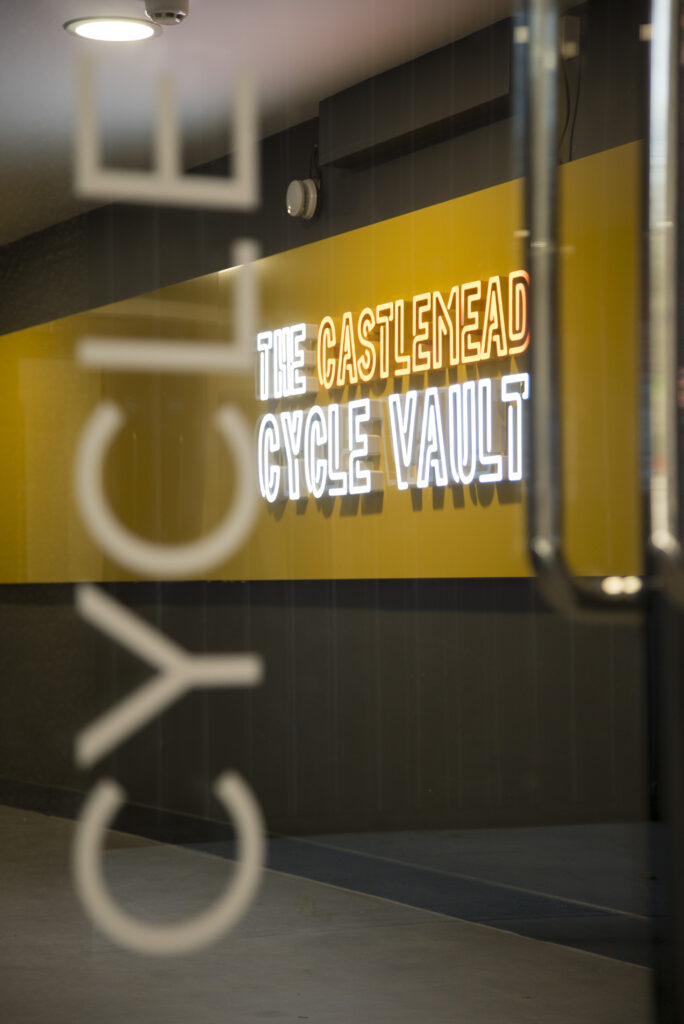 CyclingWorks Bristol had the pleasure to visit the most recent example of this trend, the new 321 bike capacity "Cycle Vault" installed at Castlemead as part of the £2.1M refurbishment of Bristol's tallest office building by Floreat Real Estate, designed and certified by CyclingScore.
Forget the bike sheds round the back added as an afterthought, the Castlemead Cycle Vault has been carefully designed to be a key selling point and tenant amenity for this office space. Occupying the whole footprint of one basement floor within the building, bike commuters enter via a dedicated access door with double card swipe protection to stop tailgating. Then use a spacious lift and ramp into the Cycle Vault where they can choose to lock their bikes into the many racks or Sheffield stands available. Folding bikes are catered for with dedicated lockers to store them and the space includes charging facilities for e-bikes or e-scooters and a tool station for any maintenance emergencies.
Once their trusty steed is securely tethered, bike commuters have easy access to lockers, a drying room, and private shower/changing cubicles to make themselves ready for the working day before heading up to the office floors. The changing facilities have sufficient capacity to also benefit office residents who want to go for a run or take exercise during their breaks.
The Castlemead Cycle Vault also holds a pool of Brompton folding bikes for short term loan by tenants of the building. The whole facility has a bespoke colour scheme and graphics designed to welcome and attract active commuters and it makes for a bright and appealing environment, a world apart from the traditional dark basement car park corner or exposed outdoor wall.
Commenting on the Castlemead Cycle Vault Greg Davison, Asset Manager at Floreat…. "Ensuring tenants have access to market leading amenities is crucial to the ongoing success of office space. The facilities provided at Castlemead have received enormously positive feedback and have generated an increase in viewings and new lettings. Payback is notoriously difficult to forecast for such investments, but the opportunity that Castlemead presented deserved the investment it received."
The facility has been awarded the highest platinum certification by Cycling Score, one of only 2 buildings in the UK achieving this level, commenting on the Castlemead Cycle Vault – Alex Georgiadis at Cycling Score … "It's a great example of an existing building that was lucky enough to have forward-thinking people on board that only focused on the building's potential and never considered its age as a limiting factor."
Alex added "With every project we're involved in, we ultimately want people's decision to actively travel an easier one to make. We believe Castlemead's Cycle Vault has achieved this in a number of ways, some of which are by providing infrastructure that caters for a wide range of users, ensuring clear and easy wayfinding/signage is displayed throughout the facilities, creating an environment that is welcoming yet safe and secure."
Castlemead in Bristol is a laudable example of property developers and office space designers going the extra mile to make getting to work using active travel easy and practical for commuters, this is in direct response to the needs of employers in Bristol.
This message comes through loud and clear from employers, who are supporting CyclingWorks Bristol.
Kirsty Green-Mann, Head of Corporate Responsibility at Burges Salmon LLP stated "At Burges Salmon we provide changing and shower facilities, secure bike racks, have an internal bike users group and arrange for bike mechanics to come onto our premises to provide bike servicing and advice. We are supporters of the Government's cycle to work scheme with our people. We think it is important to have good cycling infrastructure for a variety of reasons including wellbeing, health and safety, easing congestion, transport connectivity, air quality, the environment and climate change."
David Watkins, Associate at Arup added "We have supported and encouraged cycling through investment in new active travel facilities. Most recently in July 2019, we removed two car parking spaces and made other adjustments to our garage to accommodate 24 new cycle spaces in a two-tier rack with a further 15 cycle spaces provided in semi vertical racks. Prior to this in 2018 we invested in the construction of a new shower facilities with a dedicated clothes drying facility and larger lockers. The office has a pool bicycle which can be booked for short business trips and there are communal bicycle repair facilities provided in the garage." Looking to the future, David added "A high level of cycling access, parking and associated facilities will be a primary requirement as we develop plans for our next city centre office."
Also planning for the future Barry Gipson, Head of Organisation Development at Osborne Clarke stated that "we specialise in legal advice for decarbonisation and urban mobility and this focus extends to support for our people as well as our clients. In 2022, our Bristol people will move to new offices in the Halo building (set to be amongst the UK's most sustainable office buildings). As part of this, and as part of the post-covid transition back to hybrid office working, we are supporting all our people to adapt to more sustainable commutes and travel. This includes a mix of creative mobility solutions to minimise car journeys/parking and to encourage active travel to work such as cycling. Our new building will be set up to support cycling with ample bike parking, e-bike charging, showers, changing rooms, lockers etc. We've also enhanced our Cycle to Work scheme and established active travel hints and tips, route planners, buddy networks and more to support novice riders from all over Bristol and beyond to take up cycling to work for the first time. A regular concern and restriction to take up is the safety of cycling, or indeed e-scootering, on busy roads. We would therefore support plans for enhancing segregated cycle infrastructure in Bristol to link up safer cycling routes in and out of the city's suburbs and within the city itself. "
Steve Lane, Partner – Office Leasing at Cushman & Wakefield stated: "Office occupiers are increasingly demanding high quality secure bike facilities for their staff. This is driven by a combination of sustainability, the associated health benefits as well as the response to the pandemic which are all influencing the way many occupiers are looking to commute to their place of work. The improving infrastructure within the local cycling networks, Bike 2 Works Schemes as well as many office buildings greatly improving their end of journey offering will continue to drive this trend. Many new office buildings in the city are embracing this, none more so than EQ which is taking the use and amenity provision for bike commuters' way beyond what has traditionally been offered."
Here's also a a case study provided by Bristol Airport on steps they have taken. LINK
Other organisations working hard to enable their staff to cycle to work include Key Transport Consultants Limited, David Tingay told us "As a transport planning business we are well aware of the benefits of encouraging active travel to work. These benefits include improved health and wellbeing, improved air quality, reduced congestion and cost saving. We have installed secure cycle stands in a covered lockable store and maintain emergency cycle kit which includes repair kit and spare lights, locks and batteries. Earlier this year a shower was installed in the office building to further encourage active travel.
We have a salary sacrifice cycle purchase scheme and following participation in a scheme which allowed us to borrow an electric bike for a month for staff use, a member of staff purchased an electric cycle through the purchase scheme. We also encourage participation in cycle to work day by offering breakfast to those who cycle to work on that day."
Maria Connolly at UK law firm TLT, says: "Through our employee surveys we know that more people want to travel on two wheels, so we've encouraged this with updated cycling facilities at our office and our popular Cycle to Work scheme. We've also run events like free bike maintenance and adopted the Bristol Women's Cycling Charter, which aims to inspire and empower more women to cycle, and we'll be looking for more ways to support cycling as people start returning to the office."
Annabel Harford at Avon Fire & Rescue Service explained "Supporting employees to cycle to work forms a key part of Avon Fire & Rescue Service's sustainable travel ambitions. Measures we already have in place include shower facilities, cycle storage, external ground-mounted cycle pumps, Travelwest emergency bike kits and a Cycle to Work scheme – as well as regularly promoting cycle initiatives such as Dr Bike sessions. Responses from our staff in the annual West of England travel survey often highlight the need for safer, better cycle routes."
Phil Smith, Managing Director at Business West, who partner with CyclingWorks Bristol comments "Earlier this year we surveyed 500 businesses across the region. 80% of them agreed that climate change is a core business issue, and one that can be addressed by encouraging employees to embrace active travel as part of their commute. From the cycle to work scheme and pool bikes to dedicated cycle parking and mileage, there is no shortage of employers in the region who are doing their bit to incentivise behaviour change. However, a key barrier to widespread adoption of commuting by bicycle is the severe lack of dedicated cycling infrastructure in and around the Bristol city region."
Next year, as travelling by car into Bristol centre is further discouraged by the Bristol Clean Air Zone, it is good to see that property developers and employers are investing in making it easier for workers to opt for active travel. At CyclingWorks Bristol, we continue to work to highlight the need for our local & regional authorities to commit to the early implementation of continuous & protected bike lanes to connect the centre with residential areas and transport hubs, as described in WECA's adopted Local Cycling & Walking Infrastructure Plan (LCWIP). This is critical to address the fear held by many people about their safety when cycling on the road. By making it safer to travel by bike/ebike/escooter on protected bike lanes, evidence from cities around the world shows that more non-cyclists are encouraged to make the switch to active travel, which is both good for their health, as well as helping our region reduce transport carbon as part of the stated aim of Net Carbon Zero by 2030.